Cheese cutting specialist for all possible uses
LE PALAIS DES SAVEURS is specialized in cutting and selling small portionned cheeses intended for commercial catering centers and industry.
We work within a strict framework based on tradition, service, know- how and focus on quality, healthy food and innovation.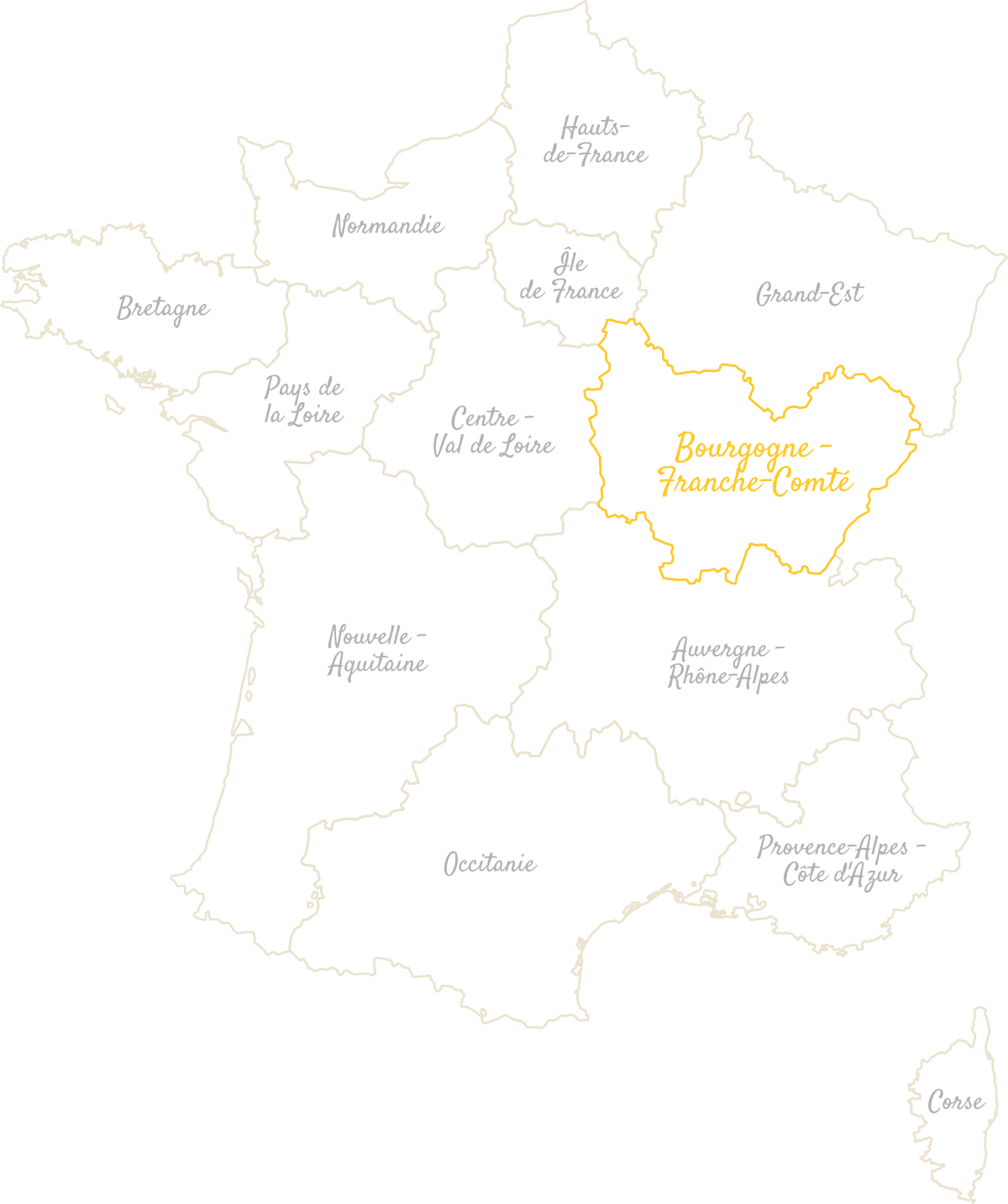 1
Cuiseaux, AOP/ PDO Comte zone
A BtoB major operator
Located at Cuiseaux in the Saône-et-Loire French department, LE PALAIS DES SAVEURS is a major operator in cheese cutting and packing. For 25 years, this family business offers a wide range of cheeses (60% AOP/ PDO ones) and many cuttings and packaging options for all possible uses. To ensure the quality of its raw materials, LE PALAIS DES SAVEURS maintains a close and long-term partnership with more than 40 cheese suppliers.
The company invests in the restaurant industry as a whole (restaurants, fast foods, chains, catering …) whatever the types of consumption: salad, snacking, buffet, table service, breakfast, appetizer, skewer, sushi, wrap, pizza, bagel, hamburger, etc….
LE PALAIS DES SAVEURS also works with the food industry which, for a number of stakeholders, uses cheeses as ingredients in pizzas, ready-cooked dishes, salted meats, etc…
2 production sites designed for tailor-made offer
The company shares with its suppliers and customers the passion for raw materials and product quality, as well as the respect for nature, people and know-how. Reactivity, flexibility, development and adaptation of production sites: everything is implemented to answer clients' requirements as best and as quick as possible.
LE PALAIS DES SAVEURS owns 2 cutting and packing sites: Pack Service for fresh products, Le Gel des Saveurs for frozen products. Half manual and half automatized Packing allows to ensure an efficient control of finished products.
Tailor-made is another asset of Palais des Saveurs. Each customer request is studied considering the cutting team's experience and the skills of the existing equipment. If necessary, new specific cutting tools can also be designed. Most often, customized products are developed to meet the demand as much as possible. Any new development request is subject to a feasibility study including cutting and organoleptic tests.
Orders are carefully treated the day of their reception and are delivered the next day or, at the latest, two days later. There is no product stock. Thus, there are many commercial possibilities, whether in terms of:
Types of cheese: French or foreign AOP/ PDOs, organic, fresh or frozen…
Original shapes: portions / wedges, slices, small dices, chips, chips 4×4, rolls, papillotes – roller, shavings, cubes, juliennes, chiffonades, cheese's creams, crumbles, grated cheeses, cheese sticks, plates, trays, skewers …
Specific weights: from 3kg / 6.6lb to… 1g / 0.03oz
Adapted packaging: from 5kg / 11lb to… 50g / 1.7oz
Le Gel des Saveurs: deep-frozen IQF
In 2013, LE PALAIS DES SAVEURS designed and invested in a dedicated cheese-freezing site for 2 million euros. The mechanical cold method and the IQF (Individual Quick Freezing) technology were chosen to guarantee an "unmodified" finished product, very distinct elements from each other, at controlled costs.
Cheeses are manually arranged at the entrance of a tunnel where an air continuously circulates between -35 °C / -31°F and -38 °C / -36.4°F. The freezing duration varies between 2 and 6 minutes depending on the volume of the product in order to guarantee a quick and fine water crystallization for an optimal quality product post thawing.
Frozen food has numerous advantages:
 Ease to maintain fragile pastes (soft and blue cheeses)
A very long shelf life (up to 18 months of BBD)
Easy portioning (tray and resealable bag for catering)
Appropriate dosage (machine run without the cheeses sticking)
Thinner slices and portions (ex: Fourme d'Ambert 15g / 0.5oz in quarter moon)
Time saving in use and implementation
Quality safety, especially for the export
IQF freezing stops all bacterial flora, including those responsible for degrading the physical appearance of the product. Once reheated, the product has the same bacteriological and visual properties as before freezing.
LE PALAIS DES SAVEURS approximately receives 10 tons of cheese per day.
The company uses different kind of cutting tools: wires, blades, ultrasounds, knifes… And is keen to create many others to customize the cheese cutting to its client's needs!
A fast-frozen cheese can be preserved until 18 months, which represents about 15 months more than a fresh product.
Interested in the products of this dairy?
Get in touch!