For 3 generations, DONGE family is perpetuating a spirit, a passion and a traditional know-how around its AOP/ PDO Brie de Meaux.
The DONGE signature has always been associated with exceptional traditional cheeses.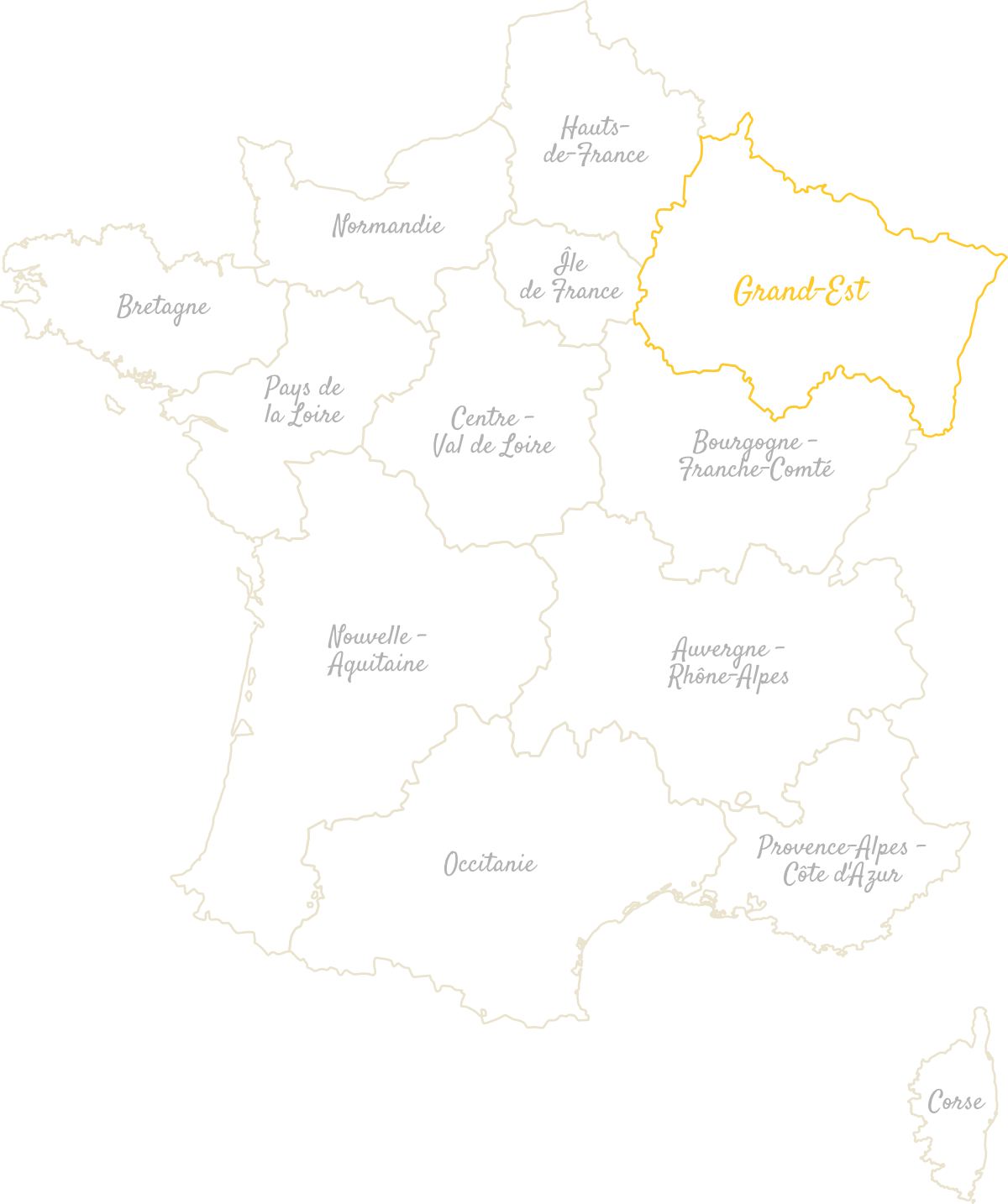 A family story
Founded in 1930 by Etienne DONGE, the small dairy is located at Triconville (150 inhabitants), in the Meuse area. DONGE produces an AOP/ PDO cheese of excellence: the Brie de Meaux. Today, the cheese monger craft passion has been transferred to the third generation. Luc and Jean-Michel DONGE, supported by their family, are perpetuating this traditional know-how.
Their Brie de Meaux is present on the greatest European restaurant tables.
Dongé AOP/ PDO Brie de Meaux
Ancestral manufacturing methods have been preserved:
Transformation of an exclusively high quality AOP/ PDO milk into a supple curd
Delicate manual molding from 25 to 30 curd layers with a brie shovel
Natural draining on a rush mat
Manually turning over the cheeses, once or twice a week
Customized ripening period from 5 to 8 weeks, according to each client need
Belonging to the soft-ripened white molded cheese family, DONGE Brie de Meaux texture evolves accordingly to its ripening period. Tremendous flavors are developing, resulting in a nice long finish. Dressed in a beautiful red striped white cloth, voluntary signature of an artisanal production and a sign of gustatory delicacy, the multiple awarded DONGE Brie de Meaux offers its creamy flesh with nutty and apple flavors to the greatest European restaurants.
Taste it when very supple and creamy, with an elegant light and floral Burgundy wine, like an AOC Aloxe Corton which will reinforce the temper and the persistence of this ancestral cheese of character.
DONGE, a quality ambassador
Making exceptional cheeses does require using an exceptional milk. Therefore, DONGE family has been nourishing historical, sustainable and personal relationships with its 35 exclusive milk farmers, all located within a 25km / 16 mi radius around the dairy. This proximity preserves the milk quality by avoiding potential transportation damages, and contributes to reduce greenhouse gas emission.
Deeply involved, DONGE's milk producers are respecting the AOP/ PDO quality charter and are participating in the "Farm from the future" program which aims to reduce the farming impact on the environment. This unprecedented initiative within the AOP/ PDO zone, pioneer in France, has been carried out by Luc DONGE to the French Great East region. The farmer and his livestock well-being are particularly covered topics.
In 2018, the cheese dairy modernized and expanded its artisanal production tool to ensure continuous quality monitoring from the milk reception to the cheese packaging. Quality being a top priority, the production site obtained the ISO 9002, BRC Food and FSSC 22000 certifications related to food safety and met the US FDA standards.
In 2020, more than 100 daily microbiological analyzes are carried out on milk, cheese, equipment and the environment.
A requirement shared by all the stakeholders, from the beginning to the end of the production cycle, is the first condition to produce a cheese of excellence.
History tells that in 1815, during the Vienna congress, the Brie de Meaux was crowned "King of cheeses" by Metternich, an Austrian chancellor. This title is also shared with the Roquefort.
"Brie noir" is originally a Brie de Meaux considered too small or too dry to meet the AOP/ PDO standards. Still very tasty, the master cheesemaker can decide to extend its stay in the cheese maturing cellar in order to give its dough a hard, gray texture and a much pronounced taste to please a particular clientele: the old ones are used to dip their slice of black Brie in their morning coffee.
Interested in the products of this dairy?
Get in touch!